Do You Know About Electrical Contacts?
Views: 492 Author: Site Editor Publish Time: 2021-09-10 Origin: Site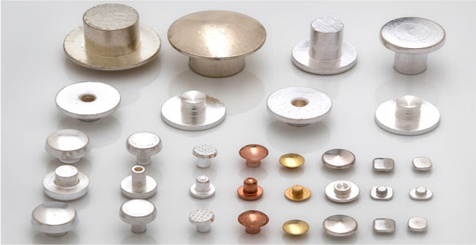 You should know that electrical contact or connection failure can directly result in disaster for your facility like stamping parts factory or appliance's operations like stamped sheet metal panels. Therefore, it is very crucial for you to maintain well-functioning electrical contacts, which is also an important element to ensuring the performance and safety of your electronic equipment and components.
An electrical contact or electrical contact rivets that use a secondary, low-voltage power source to complete or interrupt circuits that affect an electrical current. Unlike relays, they carry higher circuit loads and connect directly to high-voltage feeds so that they do not interrupt short circuits like circuit breakers.
Generally speaking, electrical contacts consist of three basic parts: operating coil, stationary contact, and movable contact. By sending low-voltage power through the coil, the electromagnetic current can activate the contact components of the movable contact to open or close against the stationary contact.
Electrical contacts are common in electrical mechanical devices that operate with a broad range of voltages and functions. Some of their most important uses include household appliances, motors, control centers, assembly lines, and presses like a cold-forming press. These specialized switches usually are in two different contact states: normally closed (NC) and normally open (NO).
Depending upon the specifics of applications that use electrical contacts, either a normally closed or normally open contact will be installed. It's important to know the difference between each type of system so you can determine the correct choice for your application like sheet metal stamping parts.
Normally open switches default in the open position, meaning that no electrical current runs through them unless operators or processes close the circuit. For example, lighting occupancy sensors, equipment cooling systems, and pilot lights are all the same.
Normally closed switches default in the closed position, meaning that an electrical current runs through them unless operators or processes open the circuit such as emergency shutoff buttons, pump shutoff buttons, and shutoff bars.
It is very pivotal for you to know how to choose the right electrical contact for your application or for your cold heading manufacturing. If you choose the right electrical contact such as brass stamping terminal parts silver contact for your application, it will significantly improve its reliability and performance within the system.
There are six essential properties to consider when you make a decision, which will be illustrated in the following passages.
1. Conductivity: This measures a metal's ability to resist or conduct electric currents. Copper can establish the baseline at 100% conductivity, and other metals are rated in accordance with their capacities.
2. Corrosion resistance: This relates to the ability of the contacts such as Oem Sheet Metal Riveting Electrical Contacts to resist chemically induced corrosion over time.
3. Hardness: This estimates four resistance or deformation factors under applied pressure.
4. Current load: This refers to the maximum current load capacity of the material.
5. Form: This specifies the various shaping capacities of the material for the application.
6. Size: This measures the length, width, and thickness of the material or its outside diameter in relation to its application such as the Custom Stamping Hardware Parts.