Do You Know Electrical Contact Rivets and Contact Assemblies?
Views: 462 Author: Site Editor Publish Time: 2021-11-03 Origin: Site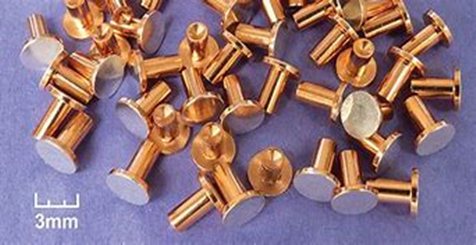 To the best of our knowledge, electrical contacts consist of soft, high-conductivity, and oxidation-resistant materials which is usually used as the complement of electrical components. To be frank, they are the materials in a system through which an electrical current flows such as circuit breakers, switches, EDM applications, and electrical contacts rivets which come in a variety of sizes.
There is no doubt that customers can find equipment such as tungsten contact rivets both small and extremely large. However, you should keep in mind that what kinds o electrical devices you should purchase is totally depending on your voltage requirements and usage.
First of all, you need to know electrical contact materials. Actually, electrical contacts are typically made from any metal with high electrical conductivity such as silver and copper. Nevertheless, in applications such as high-power equipment where mechanical wear is expected, a conductive metal may be used.
There is an explicit explanation about common electrical contact materials in the following passages. For example, silver, copper, gold, platinum, and brass are all important materials for electrical contact materials. After that, you should know something about electrical contact material properties.
When consumers are going to choose the best electrical contacts such as Oem Sheet Metal Riveting Electrical Contacts for your application just like automotive stamping press, it is of vital importance to keep in mind the six most important properties including conductivity, corrosion resistance, hardness, current load, cycle life, and size.
When it comes to electrical contact conductivity, you should know that conductivity refers to the measure of a materials' ability to conduct or carry an electric current. To be general, silver has the highest conductivity, which has an official certificate. The corrosion resistance of electrical contacts such as brass stamping terminal parts silver contact refers to a material's ability to resist chemical corrosion. Any material with little corrosion resistance will decay faster than ones with high resistance. Thus, this function is really crucial for equipment like precision metal stamping parts.
Hardness is designed to measure how resistant materials are to various kinds of permanent deformations from an applied force. It is dependant on five factors including ductility, elasticity, plasticity, tensile strength, toughness, and current load. This property refers to the maximum recommended current load that the material is capable of handling.
As the name suggests, form refers to the shape and electrical material that must fit in order to carry out its operation. The size relates to the thickness, length, and width or outer diameter of the form a material takes.
Hfengln is the premier electrical contact manufacturer, which uses a myriad of crucial metal and metal alloys such as Copper Silver Alloy for the cold formed parts and electrical contacts. In brief, the cold heading and cold-forming process have numerous advantages such as low manufacturing cost, part-to-part consistency, efficient material usage, good surface quality, capable of achieving 3 CPK and greater. Precision electrical contacts and rivets from silver, gold, copper, brass and many other metal materials can result in less waste than screw machined parts.