Do You Know What Are Bimetal Contact Rivets?
Views: 460 Author: Site Editor Publish Time: 2021-09-12 Origin: Site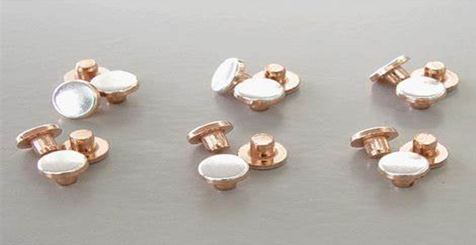 To be brief, there are a lot of rivets such as bimetal contact rivets and electrical contacts. There are three main kinds of bimetal contact rivets including round head copper rivets, flat head copper rivets, and hollow rivets. As is known to all, different manufacturers will offer different products such as bimetal contact rivets manufacturer who will mainly provide this kind of contact rivets.
What's more, electrical contacts rivets are also very popular in plenty of industries, which come in a variety of sizes. In addition, you can find electrical contact rivets both small to extremely large, depending on your voltage requirements and usage.
There is no doubt that different contact rivets have a myriad of finish conditions. First of all, the hardness of bimetal contact rivets is very prominent. In most cases, bimetal contact rivets need to be cold worked and annealing according to hardness specification. Then, when it comes to the surface treatment, degreasing and brightening are two indispensable steps.
Of course, it has a wide range of applications. It can be used in a well-equipped workshop with cold bonding machines. It can also be found in a pressurized air-conditioned workshop so as to ensure the cleanliness required for electronic applications. In addition, an ISO 9015 approved quality system needs them, too. An excellent technical environment and a first-rate metallurgical laboratory also will utilize the bimetal contact rivets or silver bimetal contact rivets.
Without any doubt, manufacturing is carried out according to customer specifications. The shape of the rivet heads and shanks, as well as the dimensions of rivets like silver contact rivets, are numerous. Other conditions such as contact material choice, hardness, and surface treatment should be defined in cooperation with the customer so that they will be satisfied. Moreover, technicians are entirely at the disposal of our customers for product design and development so that they have designed a lot of products.
1. Silver rivet and Ag/Cu bimetal rivet: Pure silver has a high level of electrical and thermal conductivity, good plasticity, and arc corrosion resistance, as well as a very low contact resistance.
2. AgCu rivet: This contact has good electrical conductivity and its surface is not liable to oxidization as well as its contact components.
3. Fk Ag contact rivet: This fine crystal silver contains a 0.12% nickel additive and has a low contact resistance, which is similar to that of pure silver, without the variable switching times.
4. AgNi /Cu bimetal rivet: In low voltage engineering, this contact can be widely used in AC switches as an electrical contact as well as its contact center components.
They can be properly used in the electronics, communication, automotive industry just like automotive stamping parts, household appliances, automation industries, and so on. And the switchgear that you should buy also has a wide array of choices such as relays, sliding contacts, mini-circuit breakers, switches, contactors, and so on. As far as I can judge, Hfengln has attached great importance to customer satisfaction. They are committed to eliminating errors at every stage of the product design, development, innovation, and manufacturing process.
Additionally, they continuously seek new technologies and new ways to improve processes so that their products like tungsten contact rivets can be better. Our team members are rewarded for innovative ideas.