The Difference between Metal Stamping and Metal Fabricated Parts
Views: 344 Author: Site Editor Publish Time: 2022-07-08 Origin: Site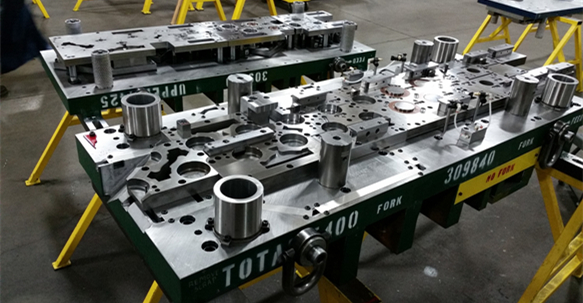 Many people rarely understand the difference between metal stamping and metal fabrication, so when buying, many people will consult with stamped metal parts manufacturer. To help answer the questions, in this article we will explain the definition of metal fabrication and metal stamping, and the difference between them, to help metal stamping parts manufacturer choose suitable metal fabrication method.
Definition of metal stamping
Metal parts stamping is a forming method that relies on presses and molds to apply external force to metal plates, strips, pipes and profiles to cause plastic deformation or separation, so as to obtain the required shape and size of the metal stamping parts. Sheet materials, molds and equipment are the three elements of stamping processing. According to the stamping temperature, it is divided into hot stamping and cold forming process in the stamping parts factory. The former is suitable for sheet metal fabrication with high deformation resistance and poor plasticity; the latter is carried out at room temperature and is a commonly used stamping method for thin plates.
Custom sheet metal stamping is one of the main methods of metal plastic processing, and it also belongs to material forming engineering technology. Simple parts can be formed by one-time stamping. This is called single-stage operation. Other parts may require multiple strokes to complete. Metal stamping is usually done when reproducing parts in large quantities.
Of the world's steel, 60 to 70% are plates, most of which are stamped into sheet metal stamping parts. The car body, chassis, fuel tank, radiator fins, boiler steam drum, and electrical iron core silicon steel sheet are all stamped and processed.
Definition of Metal Fabrication
Metal fabrication is a production activity in which various processes are applied to metal materials to manufacture required parts, production line components or overall large-scale structures. Therefore, it is necessary to use a wide range of technologies, processes, and tools to process metals and ultimately obtain the desired results.
Metal fabrication usually requires more specialized equipment than metal stamping, such as CNC bending machines, CNC turret presses, CNC laser cutting machines and welding equipment.
The process of metal fabrication is roughly divided into three categories, namely metal forming, metal cutting and metal joining. Metalworking is usually a cheaper option for producing parts in small batches because it does not require custom tools. It is also more flexible in design modification, because if you need to change the part design, you do not need to change the mold and tools.
Metal fabrication parts may be complete, or, more commonly, they are components that will be used in equipment, medical technology, furniture, or various manufactured products. Metal fabrication is a process technology for processing metal materials into objects, parts, and contact components, including large parts such as bridges and ships, as well as minute components of engines, jewelry, and watches. It is widely used in different fields such as science, industry, artwork, and handicrafts.
The difference between metal stamping and metal fabrication
Simply put, metal fabrication does not need to be formed by molds, and the production speed is slow. A&i metal stamping is stamped by stamping dies, which is convenient for mass production, high efficiency, small workpiece tolerances, and high precision.