What Should You Consider When Specifying Metal Contact Materials?
Views: 419 Author: Site Editor Publish Time: 2021-09-12 Origin: Site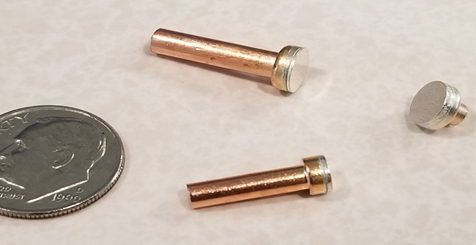 Without any doubt, contact materials can have a profound impact on the properties of products such as contact rivets. It will make a crucial difference in the integrity, reliability, and durability of connectors. However, not every application requires the highest-quality option.
There are many elements that you need to consider when specifying metal contacts such as brass stamping terminal parts silver contact. For example, you should take mechanical performance, electrical performance, physical size constraints, cost, and availability into consideration. Of course, you should use different materials on different occasions. In harsh environments, for instance, higher quality materials must be used to make sure consistent operational integrity, reliability, and durability.
It is really challenging for you to select the right materials for the male pins and female sockets in a given application like stamped metal panels, as it can be difficult to strike the right balance between so many variables. Actually, there are five key factors that you should consider, including machinability, tensile strength, cost, and current-carrying abilities. which can help make sure which metal contact material such as cold forming stainless steel will provide the best all-around solution.
Tensile Strength
To be frank, higher quality materials can produce spring contacts with more tensile strength like Oem Sheet Metal Riveting Electrical Contacts. Tensile strength is key for the reliability and durability of interconnects that serve applications with high mating cycles and have long longevity. The high tensile strength can guarantee that female socket contacts, as well as its parts like Copper Brass silver contact parts, spring back into place after each mating cycle. And proper placement ensures reliable connectivity for the next mating cycle.
Brass is commonly sourced for sockets used in commercial applications, while leaded nickel-copper or beryllium copper are usually used in harsh environments. What's more, phosphor bronze is also commonly used in harsh environments because it has higher tensile strength and therefore better spring properties than brass. However, its tensile strength is still not good enough for socket contacts smaller than 20 gauge.
Contact size is also a necessary consideration when choosing the material. Larger contacts or contact center components usually have thicker walls, which helps to make sockets less susceptible to losing their spring properties. As a consequence, large contacts can be made of lower quality, less costly materials.
Current-Carrying Capabilities
Electrical connectors are designed to pass electric currents or signals across a separable interface with as few alterations to the original signal as possible. Copper is one of the best conductors for electricity. Therefore, the higher the copper content in a contact material, the more current it can carry relative to its mass. However, copper is expensive to some extent. Thus, pin and socket contacts as well as its contact components used to simply transfer a signal can often use materials with lower copper content. Hence, those used to pass significant electrical current will require a material with a higher copper content in most cases.
Cost
Electrical contacts are often one of the costliest aspects of a connector. There is no doubt that stronger metals with higher tensile strength and those with higher current carrying capacities cost more. Likewise, brass alloys are less expensive than leaded nickel-copper and beryllium copper while phosphor bronze costs more than brass, but less than alloys with a higher copper content such as Copper Silver Alloy.
Availability
The availability of metal materials has a great impact on manufacturing just like cold heading manufacturing in two significant ways. The scarcer a metal, the more difficult it is to buy even at higher costs. Some types of copper, specifically C97 which is a low-alloy copper and beryllium copper, can also be difficult to purchase.